CSR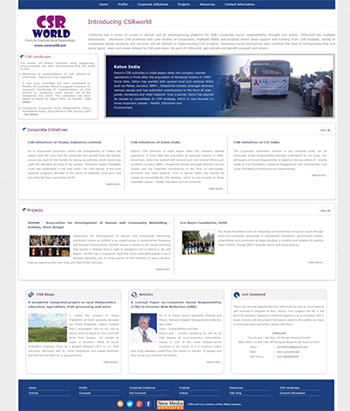 CSRworld was created out of intense brainstorming over several months between Milind Sathe and Shashi Sharma. We believe that CSR could be an effective model for developing a country like India, and similar underdeveloped regions of the world. We also believe that using the capabilities of current and emerging information technologies and media, one could propagate the philosophy, strategies and actions on CSR widely and effectively. We are committed to creating an active and robust platform for CSR thought and action.
CSRworld is a forum for Corporate Social Responsibility which aims to create an ecosystem for understanding and furthering meaningful CSR practice in India. CSRworld will highlight case studies and CSR practices of corporates as well as showcase projects which need support and funding. CSRworld will also showcase resource and service providers whose products and services will be useful to both corporate and social or voluntary organisations in implementing CSR projects.
The platform of CSRworld will create opportunities for all stakeholders - corporate and business organizations, projects which need support and funding apart from resource and service providers.