Milind has delivered several talks and written several articles. Here is a partial list.
A lensman who makes one sit up and take notice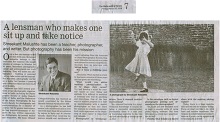 Shreekant Malushte has been a teacher, photographer and writer. But photography has been his mission
Delivered several formal and informal talks / presentations on the following themes :
The audience profile included Rotary clubs, corporate executives, select clients of banks and management students.