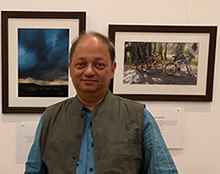 Artist Biography :
Milind Sathe has been shooting for more than 25 years and continues to shoot several themes which include :
Heritage (Built as well as Cultural)
Faith
People
Mountains
Street
Cafes
Railways
Photo Features and Articles :
Milind's photographs and articles related to photography have been published in :
Sakal, leading Marathi daily in Maharashtra
Saptahik Sakal, leading Marathi weekly in Maharashtra
Sakal Times, an English daily from Pune
"Sportsworld", leading English sports weekly
Zee Marathi Disha, a leading Marathi weekly in Maharashtra
Blog
Milind writes a photo blog which is viewed widely.
Click here to view
Photography Exhibitions :
2018 : Group Show at Indiaart Gallery, Pune
2017 : Solo show at Indiaart Gallery, Pune
2016 : Solo show at Jehangir Art Gallery
2016 : Solo show at Nehru Centre, Worli, Mumbai (Main Gallery)
2015 : Solo Display at PYC Hindu Gymkhana, Pune
Milind has curated and organised several photography exhibitions.
Collections :
Milind's photo prints are in the collection of several individual collectors in Pune, Mumbai, New Delhi, Bangalore as well as with collectors in U.S. and New Zealand.
Artist Statement :
To create insightful photo essays to highlight and document themes close to my heart. I have been working on my chosen themes on a long term basis.
To contribute to spreading the visual culture with photography as an important tool.
To contribute to social causes and projects by way of highlighting their work as well as donating part of the earnings to such causes and projects.