Profile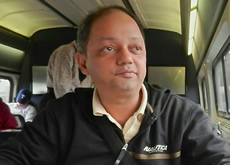 Milind V. Sathe promoted
Indiaart Gallery
and the art portal www.indiaart.com which showcases Indian Art and reaches out to art collectors and aficionados worldwide. He is actively engaged in several art projects by way of conceptualising innovative art practices and partnering with several artists to implement these.
He set up Art India Foundation, a trust which undertakes activities and projects to promote art and spread art awareness especially among children including underprivileged and challenged children.
CSRworld is a fourm for corporate social responsibility set up by Milind Sathe. CSRworld will showcase case studies of CSR work being done by corporates as well as highlight projects looking for support and funding.
Milind is an entrepreneur with more than 20 years of experience in I. T. sector which includes software products and services marketing, product development and ERP implementation. In the last 10 years, he has been involved in Digital Transformation projects and has worked with more than 500 clients in India and abroad in the areas of Internet strategy and consulting, web content creation, web applications, e business and social media. He continues to engage with several clients through his firms - Link Software & Systems Pvt. Ltd. and New Media Ventures.
Milind did his graduation in Electrical Engineering from Delhi College of Engineering University of Delhi and Post Graduation in Business Management from Symbiosis Institute of Business Management, University of Pune. Prior to graduation, Milind completed his schooling at Jnana Prabodhini Prashala, Pune and junior college at Fergusson College, Pune.
His active interests include travel, photography, cycling, history and media.