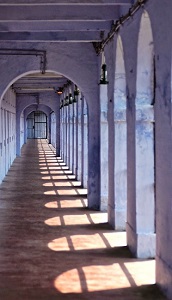 Ever since I read about "Kala Pani" sentence handed out to freedom fighters and revolutionaries who fought against the British, I was keen to visit the cellular jail. Finally in 2009, we visited Andaman Islands. I still remember the moment when we first spotted the islands from air above. It was a moment of excitement and of getting to know the unknown, visiting the dreaded place.

Plaque outside Savarkar's prison cell at Cellular Jail, Port Blair
When we touched down at Port Blair airport, I was relieved to see that the airport was named after Veer Vinayak Damodar Savarkar ( and not someone from the Nehru dynasty ). What was missing although was a large painting or mural depicting Savarkar's life and contribution to the making of modern India. The first thing we did after settling down was to visit the cellular jail. A round of the cellular jail makes your blood boil with rage. It is terrible and inhuman how the British treated Indian freedom fighters and revolutionaries. Apart from physical torture, mental torture was commonplace. The solitary cell of Vinayak Damodar Savarkar who inspired generations of freedom fighters is actually a pilgrimage. Despite all the physical and mental torture, so many revolutionaries not only maintained sanity but someone like Veer Savarkar actually wrote great poetry out here. The list of martyrs seemed to have more names from Bengal, Punjab and Maharashtra as compared to other states. It is a well known fact that successive Congress governments have deliberately tried to undermine Savarkar's contribution to India's freedom struggle and shaping of modern Indian thought. Mr. Mani Shankar Iyer tried to mess around with the memorial dedicated to Savarkar at the cellular jail. Despite all these attempts, the cellular jail attracts thousands of Indian who travel this far to see homage to the freedom fighters and martyrs many of whom could not return to their motherland.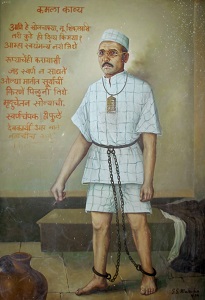 Painting depicting chained Savarkar writing poetry on prison wall

Display of select photographs from Savarkar's life at the jail museum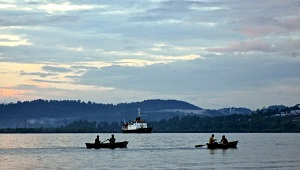 Around Port Blair, Andaman Islands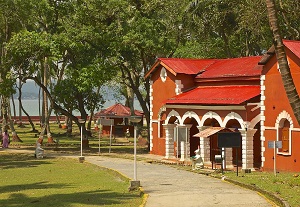 At Ross Island, Andaman
Andaman is endowed with rich natural beauty and a vast expanse of small islands spread strategically in Bay of Bengal with certain parts of this island cluster not accessible to the civilians due to presence of naval and airforce bases there.
Ross island just across Port Blair has ruins neatly preserved and they give a good idea about the life its British officers had out there. Contrasting the life at Ross was Viper island which apparently housed a prison to inflict extreme torture on the most dangerous detainees of Andaman.
The natural beauty around is unparalleled but then the feeling of sadness and anger at the way Indian freedom fighters and revolutionaries were treated by the British rulers overpowers all other emotions here.