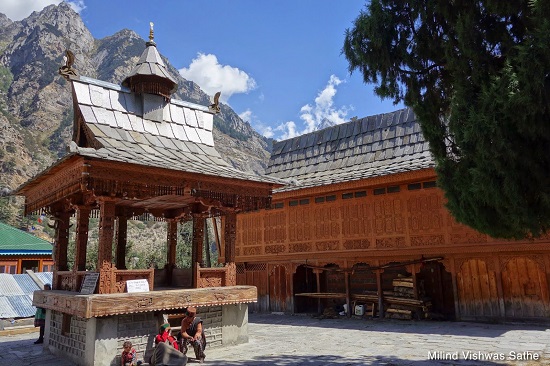 At Badri Narayan Temple, village Batseri
The carved wooden Badri Narayan temple at village Batseri is a beautiful temple which is clean and peaceful, rare qualities to be found in a Hindu temple. The temple is to the left as one enters the village. Been there thrice on three different trips to Sangla. Enter the village after you cross the small bridge on river Baspa. There is a small steep climb and then you enter Batseri. It is a small walk from Banjara camp at Sangla and thus a mandatory visit each time we go to Sangla.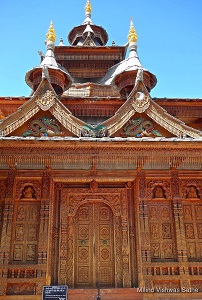 Main door of the Temple
The temple complex also serves as the meeting place for villagers on important occasions apart from the festivals. The gods are taken out only on select occasions and it is only the priest who can enter the sanctum sanctorum. Saw the person who the village folks believe has a direct communication with the gods.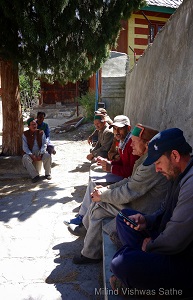 Villagers gathered at the temple
This wooden temple got burnt in 1998. The villagers through a grand collective effort rebuilt it. This time met the wood carver whose family has been involved in creating all the beautiful wood carving out here.

Intricate wood carving on the temple wall panels
This time made it a point to spend considerable time at the temple, took several pictures and did few sketches. Stayed back for the evening Arati after which the gods need to sleep. It was getting dark and cold. There were not too many people. It was wonderful to experience the peace and tranquil existence out there in a remote village in Himachal. I realised that time why all the hill folks have such a big place in their life for the "Devta".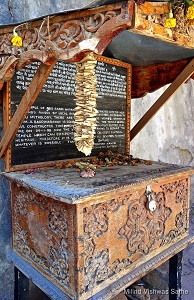 Donation box at the temple premises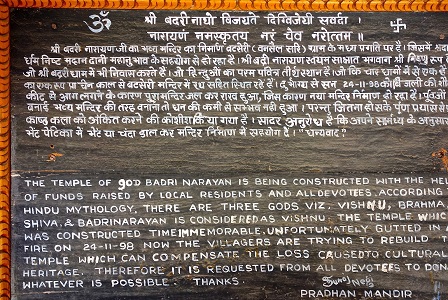 Appeal for Donation