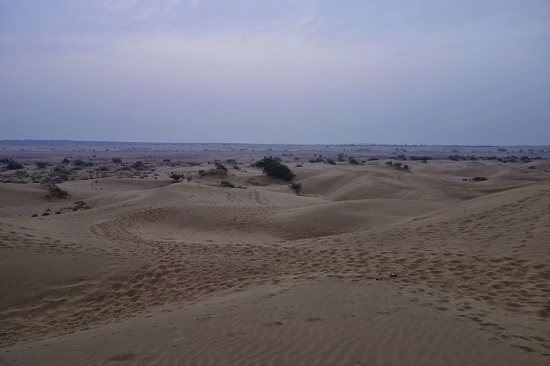 Sand dunes near Jaisalmer
It turned out to be a blessing that we missed the evening camel ride in the desert as we reached the desert camp near Jaisalmer late in the evening. Not too many people around when we reached well before sunrise with crisp cool air. Our driver mentioned that the camel rides is a big draw and it gets really crowded and messy in the evenings. He also mentioned that the entire camel trade in this region is controlled by the muslim community. We were put on to a young and talkative boy who could not only handle his camel well but could also handle the tourists with ease. He knew that once on his camel back, they were totally at his mercy. We could not really find out if there was anything more to this desert national park than the camel rides. The sand dunes were beautiful but then it is sad to see plastic bottles and wrappers of all kinds being littered by tourists. Can the government agencies not rope in all the tour operators and all the stakeholders and make them collectively responsible to educate and persuade the tourists to desist from littering?
After the ride, we drove to Sam which we were told was the last town of any consequence in this part of Thar desert before the border with Pakistan. We also learnt that this border route facilitates active exchange of contraband.