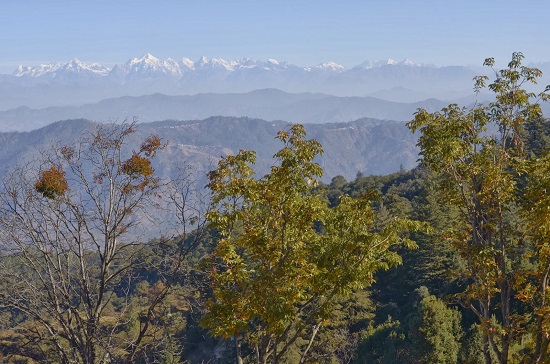 Camp Purple set up by Wildrift at Mukteshwar in Kumaon is located on a sloping mountain. The tents were reasonably large and comfortable. Everything about this camp seemed to indicate that it was a well established and well settled campsite.The tents are on a hill slope facing east with spectacular view of the rising sun and the changing colours of the mountain ranges as the sun rises over the mountains.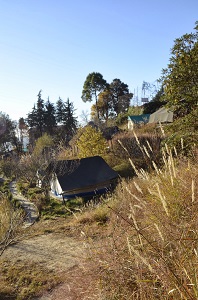 Tents at Camp Purple, Mukteshwar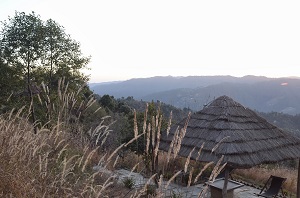 Gazebo at Camp Purple, Mukteshwar
The gazebo was the place to be - to get soaked in the sun during the day sipping innumerable glasses of chai just doing nothing, reading and sketching. The grass blades had dried as the winter was setting in with their heads gleaming bright in the morning sun - a sight that captivated me since I saw these. This was a visual treat.
The nights were really cold but then we would assemble at the gazebo at sundown and start the campfire with a daily session of music where Mihir played flute and Aalok sang.
On the adjoining slope is Somerset Lodge which is charming property of 90 years vintage. The owner Mr. Mehra has maintained it very well and this would be a choice for a more comfortable stay. It was good to meet Mr. Mehra who was personally working on various odd jobs that needed to be to done for ensuring a proper upkeep of such a lovely property. I learnt that his family has another property in the village at the foothills.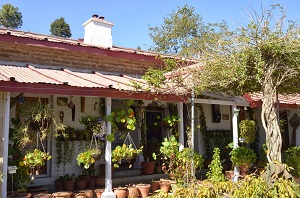 Somerset Lodge, Sarga Khet, Mukteshwar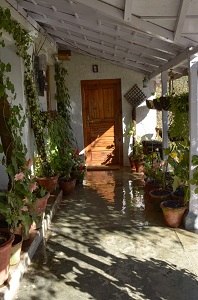 At Somerset Lodge, Mukteshwar
Both the places - Camp Purple and Somerset Lodge - gave us ample opportunities for photography, sketching and painting. Prachee helped us with identifying various plant species whereas Vijay was the serjeant-at-arms. I did pick up some nice shots and did few sketches whereas artist Chitra Vaidya did several sketches as well as watercolour paintings. Chitra has done several sketches and paintings on Kumaon and they can be seen as a Featured exhibition on Indiaart Gallery's website.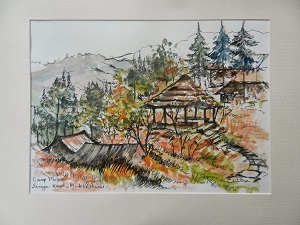 Painting of Camp Purple, Mukteshwar in ink & watercolour by Chitra Vaidya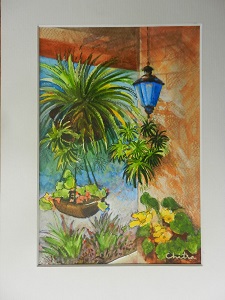 Painting - At Somerset Lodge, Mukteshwar - ink & watercolour by Chitra Vaidya
There were several heritage structures around Mukteshwar, the notable being the veterinary institure which is more than 100 years old. The structure is well maintained and this institute has to its credit some pioneering research in the field of animal diseases in India. However Mukteshwar is fast turning into a "tourist" place. We could see several hotels and resorts being built.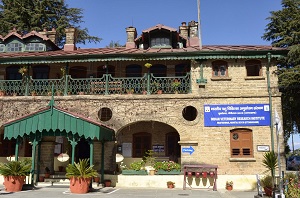 Indian Veterinary Research Institute, Mukteshwar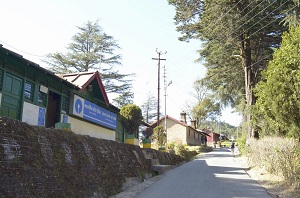 Street at Mukteshwar