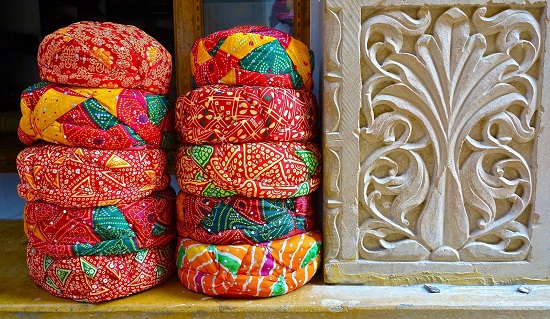 It was a visual treat to walk around in the markets at Jaisalmer. All kinds of shops and fascinating stuff on display with some clever and at times bizarre signboards.
For a long time, I wanted to get a shoulder bag made from camel hide. Came across several shops selling camel hide products but could not locate the kind of bag I was looking for. I was about to give up and there was only one shop which I had not checked out. When I was checking out his wares, the shopkeeper asked me about the Livestrong band I was wearing. I realised that he too was wearing one but his band had reached its end of life. I offered my band to him and he was so thrilled. I kind of liked one bag at his shop but wanted a one with a handle and not one with only a strap. He offered to fit a handle to it. What I saw in the next hour or so was very focused workmanship. Not only that, there was a pleasant surprise for me - this fellow also crafted a wrist band made out of camel hide.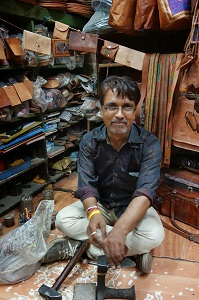 Inside the Camel Hide shop
Next destination was a mithai (sweets) shop. The young man in charge proudly told me that he was the fourteenth generation running their business. Packed their speciality sweets and namkeen for our travel as well as for carrying home.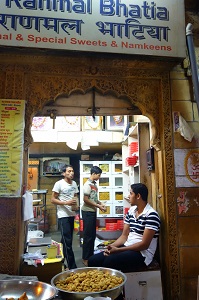 Sweets and Namkeens shop in Jaisalmer market
One could see sellers resorting to using catchy slogans and funky boards to attract passers by. Here is one of them.

On way back to the hotel, chanced upon this Bhang shop. Realised that we had to start very early next morning so dropped the idea.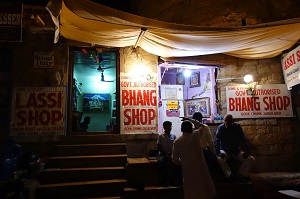 Bhang shop at Jaisalmer