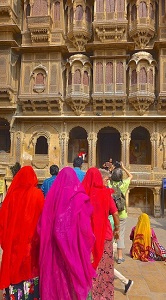 The old city of Jaisalmer with its narrow by lanes and havelis with intricate stonework is a cultural heritage par excellence. The lanes are narrow and not exactly clean with scooters and mobiles zipping past but then what has been retained are the structures and ambience as it would have been 300 years ago. The street bazaar is very colourful and a shopper's paradise.
Narrow lanes at Jaisalmer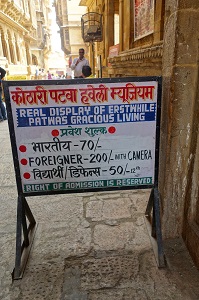 Haveli museum at Jaisalmer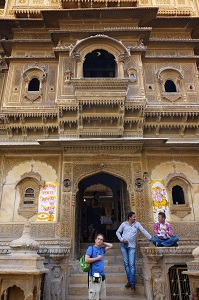 Haveli at Jaisalmer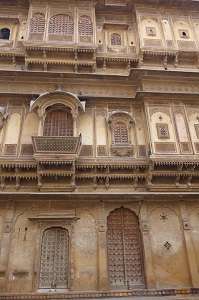 Intricate carving on the Haveli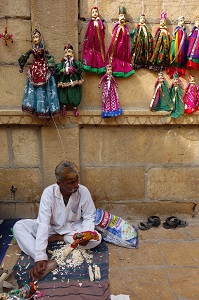 Craftmen at work near the Haveli
One of the Havelis has a store which sells all kinds of tapestry and fabric. We spent some time browsing through wide range they had. Very colourful and intricate work in fabric. Somehow Rajasthan is colour. Despite the fact that we had decided not to get tempted, picked up a hand stitched piece which I intend to frame and put up on the wall. This piece has been created by stitching together pieces from the old traditional dresses of Rajastani women.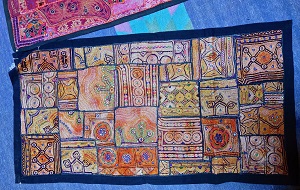 Hand stitched durry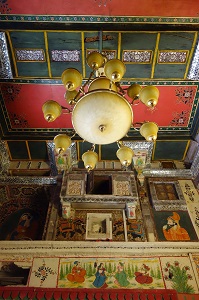 Ceiling at a Haveli
A remarkable feature that we noticed here was that every other house had a marriage invitation painted brightly on its walls. We were told that it is a custom here to paint the invitation on the visible portion of the house wall which is an invitation to the community at large to grace the occasion. This painted invitation stays there till the next marriage invitation. Simply fascinating tradition and a rich visual heritage !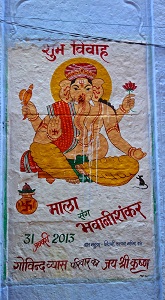 Marriage invitation painted on the wall of a house at Jaisalmer