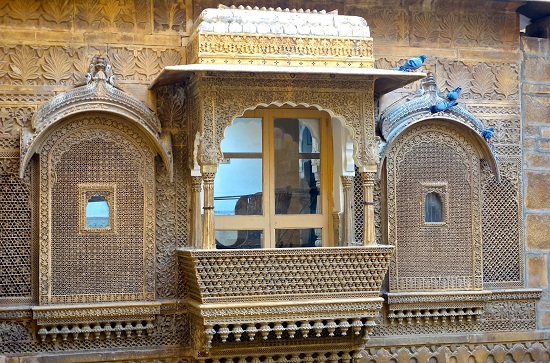 Intricate stone carving at Jaisalmer Fort
We were told that there was a time when the city of Jaisalmer was within the confines of the walls of the fort. The entry to the fort is marked by the chilling sight of the palm imprints of royal queens who opted for jauhar when their kingdom was staring at certain defeat by the enemy. Jaisalmer fort unlike other forts in Rajastan happens to be the first to face the brunt of the invaders from the west. This could probably be the reason why it is not as opulent as other fort palaces in Rajastan.
The precincts of the fort have a large number of residences and a thriving market which is simply fascinating. I found this fort remarkable because it has a thriving ecosystem which has an eclectic mix of grandeur, people living there for several centuries and a crazy bazar which sells everything. A large number of houses here double up as guest houses which attract the foreign tourists by the droves. It was interesting to note that even the tiny ones displayed Tripadvisor ratings prominently.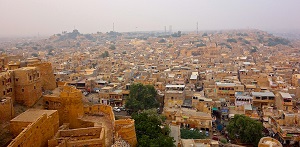 View of the Golden city from Jaisalmer Fort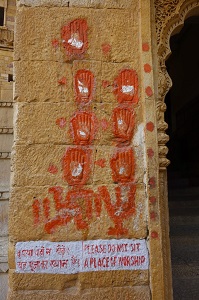 Imprints of the palms of queens who opted for Jauhar, Jaisalmer Fort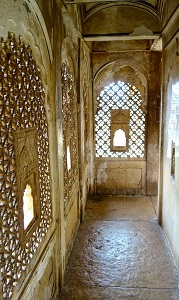 Jalis in a passage inside Jaisalmer fort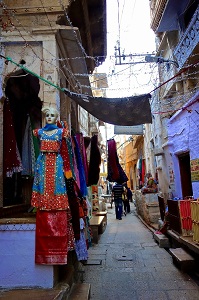 Market inside Jaisalmer Fort city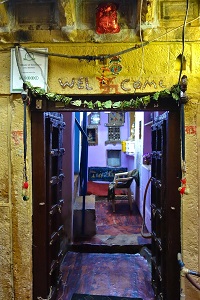 A small inside the fort also doubles up as a guest house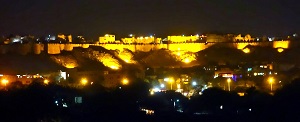 Jaisalmer flag with the Golden city in the background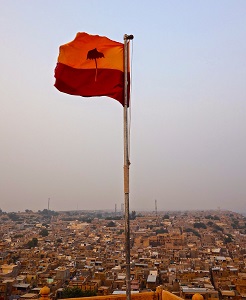 Jaisalmer for lit up at night