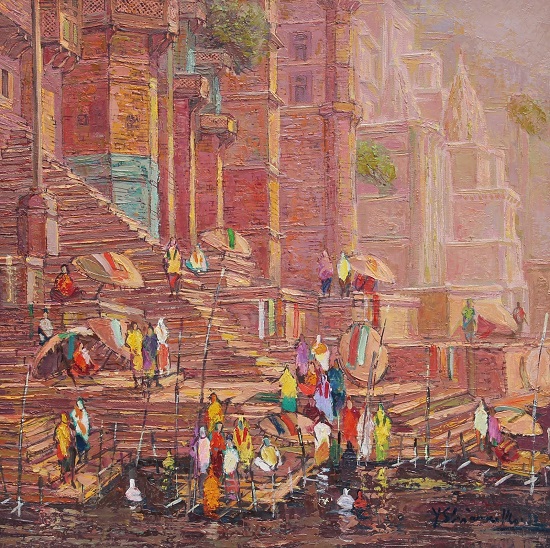 Banaras, Painting by Yashwant Shirwadkar
Banaras, Painting by Nalini Bhagwat
Banaras, Painting by Chitra Vaidya
Me and Vipul Narain Srivastava, a friend from DCE (Delhi College of Engineering) hostel took a night train from Delhi to Banaras in 1983. His uncle Shri. Iqbal Narain Srivastava was the Vice Chancellor of BHU (Banaras Hindu University) those days. My school classmate Chaitanya Koranne was studying at IT-BHU that time. We had planned to stay with him. As we reached Banaras railway station after the overnight journey, we spotted an unusually large number of students at the railway station. Learnt from the students that BHU had declared an indefinite sine die and all students staying at the hostels on the campus were asked to vacate the hostels within 24 hours. This forced all of them to take the first train or bus out of the city to go home.
Vipul suggested that we go over to the residence of VC at BHU campus and see if we could be accommodated somewhere as we had travelled all the way to Banaras. Fortunately for us, we were accommodated at the VC lodge itself and life could not have been better for us over the next 3 days.
Although we wanted to venture out on our own to explore BHU campus and Banaras as such, we were asked to go around in an official vehicle with armed escort as the situation in the campus and the city was charged and violence could erupt anytime. The BHU campus is large and beautiful which is a stark contrast with the old city. One cannot but admire the vision of Pandit Madan Mohan Malviya who took relentless efforts to set up this great university. Stories of how he went around all over the country to raise funds for this ambitious project are fascinating. On one of the evenings there, we accompanied the VC for a dinner at a professor's hose on the campus and was amused to see few buffaloes outside the house. Learnt that several faculty members kept buffaloes and sold excess milk in the local market.
Kashi Vishwanath Mandir and the ghats of Banaras were magnificent (so long as the filth prevalent is discounted). The pujaris at the Kashi Vishwanath Mandir tried to extort money from us but relented after we talked tough and told them that we were staying at BHU. It was ironical that the same pujari (priest) who talked to us menacingly earlier begged us to give him at least few rupees so that he could buy a smoke ! This is a problem that we must sort out at the earliest which is more or less common across all religious and pilgrimage sites in India - filth and malpractices. The ghats on river Ganga were a visual treat so long as one could ignore the floating dead bodies in and last rites being performed.
I hope to visit Varanasi very soon now that it is the constituency of India's prime minister Shri. Narendra Modi who has promised to transform and develop this ancient city and which happens to be the only surviving ancient civilisation which has continued to exist and thrive for more than 2500 years.
Banaras has fascinated photographers and artists. Indiaart.com will carry a thematic selection of paintings on Banaras specially selected from paintings by several artists.
At present paintings by Yashwant Shirwadkar, Nalini Bhagwat and Chitra Vaidya on Banaras are available on Indiaart.com.