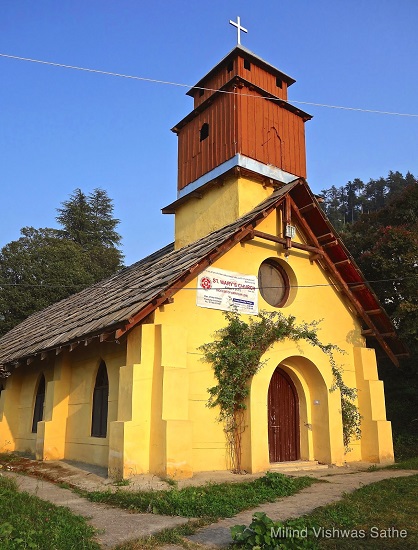 St. Mary's Church, Kotgarh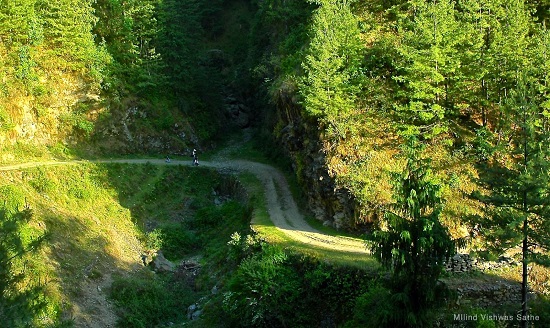 On way from Thanedar to Kotgarh
The downhill walk to Kotgarh from Thanedar goes through reasonably thick woods. It was here around Kotgarh that Samuel Stokes, a young American arrived in middle of nineteenth century. The story goes that this young man wanted to do something for the poor hill folks in this area. He decided to get apple saplings from United States and encourage the locals to plant them. The rest is history. Today Himachal Pradesh is a leading apple producer and exporter. The apple fruit has brought prosperity to this hill state. Samuel Stokes married a Hindu girl and settled down here. He subsequently converted to being a Hindu and assumed a new identity as Satyananda Stokes. He was active in Indian National Congress and the freedom struggle. His daughter in law Vidya Stokes lives near Thanedar and has been active in Himachal politics for decades and has served as Dy. Chief Minister of the state as well. She was also active as an organiser and office bearer in running women's hockey in India.

One cannot miss the small little St. Mary's church at Kotgarh. This is a very old church (built in 1872) with lovely stained glass windows. Happened to meet two teachers from convent schools nearby. It would have been nice to attend the mass here but this was not possible.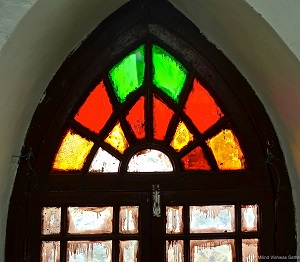 Stained Glass window at St. Mary's Church, Kotgarh
Have carried back great pictures of this small little church and a sketch.